In my last blog post, I wrote about performing at the "Escape the Ordinary" summer series presented by the Jacksonville Library. What great fun it was! It started me thinking about the word ordinary and how much magic we are privileged to experience every day in ordinary events.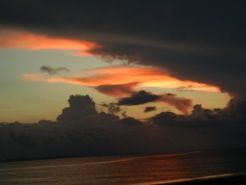 When we look for magic in the ordinary, we find extraordinary things. These two photos are from a western Caribbean vacation my husband and I took in February, 2014. At first glance, they're photos of a sunset, yet I see more. I gaze into these images, and I see fish swimming in the sky. It reminds me that there are worlds beyond my comprehension - worlds that may not function under the same rules of this world. Perhaps somewhere fish swim in the sky! What do you see in these photos? Where is the magic hidden in your life? Is it in your daily walk, your interaction with others, your connection to nature? Clouds and light, all of nature, in fact, fill me with such wonder!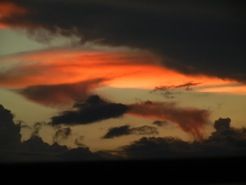 If you'd like to read about wonder through the eyes of a gifted poet, check out Sandy Hartman's work online.