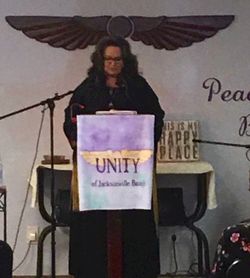 I had the honor last Sunday of adding my musical support to Nada Frazier's powerful service at Unity of Jacksonville Beach. Nada is our spiritual leader and I love working with her. While I always choose songs intended to complement her messages, I also get to express my own truths at the same time through my lyrics and melodies. It's amazing how often Nada and I find ourselves in sync!

With her deep spiritual connection to the teachings of the Lakota culture, Nada brings a unique perspective to our church and our place in the world as both spiritual and human beings. Last Sunday's service focused on understanding how to examine and let go of troubling emotions, while still continuing to speak up in these turbulent times.

If you are looking for a spiritual home that embraces diversity, honors the universal truths in all religions, and respects each individual's right to choose a spiritual path, please come to one of our services. We will welcome you with open arms!