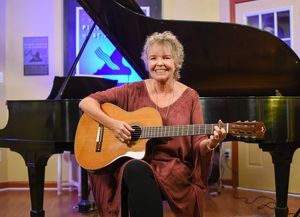 I will be appearing along with poet Laura Jo Provost and artist Patricia Setser at The Art Center Cooperative at 1225 Hendricks Avenue in San Marco on Sunday, October 3. The reception will be from 1:00 to 5:00 pm. I hope you can join us!
This multi-media showcase of poets, artists, and musicians will run through October 29th. The event is sponsored by Hope at Hand and Women Writing for (a) Change. Original works of art will be for sale with a portion of the proceeds to provide much needed art supplies to elementary schools in Duval County.
Laura Jo, Patricia, and I named our project Song of Eternal Longing. Working with these two talented women was an exciting, fulfilling experience that I shall never forget. I am so pleased with the synergy that developed between the three of us to create a beautiful work of art.
There is always "miracle and mystery" in creative acts. In this interview, I talk about how my song "You Carry Me" came to me and the joy I experienced in being a co-creator of Song of Eternal Longing.